Albert Beckett is a recent contact and STANLEY co-researcher who has the great good fortune to be able to trace his line directly back to what I call our Ancestral Standleys in Audenshaw with no annoying gaps in the middle due to missing records. I have been trying to find a link back to these STANLEYS for a long time, but so far all my evidence is circumstantial with no definite proof. Somehow, though I know that Albert and I are related.
(1) Raphe Standley de Haughton buried 1600
|
(2) Edward Standley born circa 1572 married to Lydia circa 1609,
three children including:
|
(3) Richard born N/K married to Judith, seven children including:
|
(4) Richard married to Sarah Brierley 1699, five children including:
|
(5) Edward born 1710 married to Sarah Walker 1734, five children including:
|
(6) Edward born 1740 married to Martha Winterbottom 1762,
eleven children including:
|
(7) Ralph born 1776 married to Sally Fogg 1801 and Jenny Cheetham 1807,
thirteen children including:
|
(8) James born 1815 married to Mary Addingley 1848, two children:
|
(9)William Edward born 1853, Emma born 1851 :
|(9) William Edward (picture below) married Jane Sandham 1874, (picture below):


Ten children including:
(10) Emma Stanley born 1888 (see picture) and Jane Ann Stanley (picture below) born 1879 who married Nathan Wallwork, nine children including:


|
(11) Annie Wallwork born 1909 married George Beckett 1930
|
(12) Albert Beckett born 1945.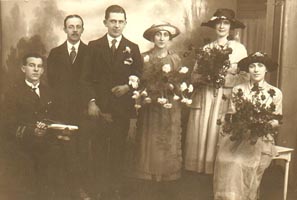 Jane Ann Stanley's sister Mary Hannah's marriage to Frank Barrett in 1920, with Emma on the extreme right




Gay J Oliver &copy 2003 - all rights reserved