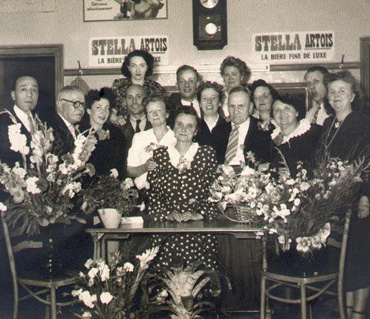 The above photograph is of my great grandparent's diamond wedding anniversary in 1949. I don't know their actual names and have no-one left to ask who can give me a clue. I only remember them by the names I gave them during my childhood as 'Bobonne et le Grand Bon Papa'. I believe the family were originally from the Namur region of Belgium, but my grandfather, Francois Paul Philippe Piette, fourth from the left, was born at Moulenbeek St Jean, Bruxelles circa 1896. His brother Louis is at the left of the group.
My grandmother Jeanne Eugenie Adems was born in 1894. I have recently discovered that she was adopted at the age of seven by my great aunt's parents. I haven't yet been able to find out who her real parents were. Her adoptive parents were Desire Adems and Antoinette Desaegher born circa 1860. Although both my grandparents were bi-lingual because they lived in Bruxelles my grandfather was a French Belgian and my grandmother from Flemish roots.
My grandparents married in 1918 and my uncle Philippe was born in 1919. He is the man in the centre at the back of the photograph and quite a character. There will be more about him when I tell the whole story later. My mother Jeannine Pascaline Florette Piette was born seven years later in 1926. She met my father whilst she was working for ENSA as a secretary to a baroness and entertaining the troops as Bruxelles was liberated at the end of WWII. My parents were married on Valentines day1946 and I was born the following November.
CLICK HERE TO GO TO PIETTE INDEX




Gay J Oliver &copy 2001 - all rights reserved