BLIND JACK OF KNARESBOROUGH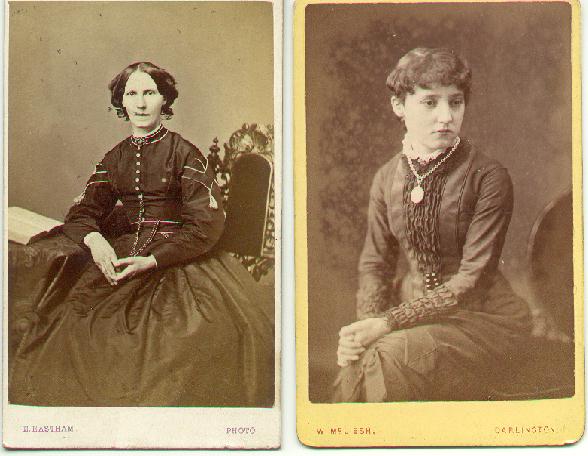 Martha Cartwright and her daughter Selina Newton
Family legend had it that Selina Newton, the first wife of "Unlucky Bob" was descended from John Metcalfe 1717-1810, otherwise known as Blind Jack of Knaresborough. He was a famous road building pioneer, pre-dating Telford and Macadam.
He was perhaps one of the most remarkable of all Yorkshireman, who although blinded from the age of six, after he had contracted smallpox, never let his disability prevent him from doing anything he set his mind to. His father kept horses and Jack soon learned to ride, especially enjoying a good gallop. He loved horse racing and the hunt and even kept a few hounds himself. He learned to find his way along the roads around Harrogate and York so well that he began acting as a guide, both day and night.
He learned to play the fiddle, entertaining people at country dances at Harrogate Assemblies and also at the Granby Inn, where he fell in love with the daughter of the landlord Christopher Benson. Her parents had different ideas and wanted Dorothy (Dolly) to marry a shoemaker, Anthony Dickenson, not thinking Jack was a steady enough character. Dolly expressed her fears to Jack on the eve of her wedding and decided that she couldn't go through with the wedding, so, that evening Jack collected her from the entertainment her intended had laid on, and they eloped. Her parent were furious, but shortly after the birth of their second child, Tabitha, they became reconciled.
During the Jacobite rebellion in 1745 Jack acted as recruiting sergeant at Knaresborough to raise volunteers to fight against the young pretender, Charles, the grandson of James II. He even travelled to Scotland with the troops and infiltrated the rebel army to gain information on his friend Captain Thornton who had become detached from the main army and had gone into hiding.
After his Scottish adventure, Jack endeavoured to find a more settled and secure living to help provide for his growing family, and hit upon various schemes, at times not being averse to dealing in a little contraband. Later he began a new business and became a carrier on the road between York and Knaresborough, employing the first stage wagon along this route.
He didn't start to build roads until 1755, when an Act was passed to turnpike the road between Harrogate and Knaresborough. He was remarkable in that he could survey the land, work out the amount of materials needed and the cost of labour and hold the details in his head. He built several of the turnpiked roads in Tameside including the Wakefield, Huddersfield and Saddleworth roads, and the turnpike road from Stockport to Mottram in Longdendale.
In 1778 Dolly became ill, so Jack took her to stay with a married daughter in Stockport. This daughter was married to a Cheshire cotton man, and Jack decided to try the cotton business himself, but didn't make any money at it so gave his six spinning jennies to his son-in-law. His wife Dolly, unfortunately died from this illness and is buried in Stockport St Mary's Churchyard. Jack then took on road building contracts in Cheshire Lancashire and Derbyshire, retiring in 1792 to live with his other daughter and son-in-law at their farm at Spofforth. Jack dictated his life story in 1806, and finally died in 1810 at the age of ninety three.
I felt fairly determined to prove the connection, but at first only managed to get back to Selina's great grandparents on two sides and could progress no further. Then I read that Jack had left four children and decided to work forward to see if I could link up that way. After several attempts these are the results.
Blind Jack's Family Tree
Jack married Dorothy Benson the daughter of Christopher Benson, the landlord of the 'Granby Arms', Harrogate. They had four children baptised at Knaresborough:
Christopher on 7 February 1739
Tabitha on 23 April 1742
Ellen on 18 July 1744
John on 20 March 1746
Ellen married Thomas Ingleson at Knaresborough 24 November 1763. This is the daughter who Jack went to live with during his retirement at Spofforth.

Tabitha married David Jackson 7 December 1767 at Knaresborough and they had the following children:
Joseph baptised 22 October 1768 at Mottram St Michael
Ann baptised 1 August 1773 at Mottram St Michael
Tabitha baptised 5 October 1777 at Hyde Gee Cross Unitarian
Dolly baptised 28 November 1779 at Hyde Gee Cross Unitarian
John baptised 8 February 1785 at Hyde Gee Cross Unitarian
So it seems that it was Jack's first daughter Tabitha, who had married a Cheshire cotton manufacturer. The baptism register at Hyde Gee Cross Unitarian Chapel showed that David and Tabitha Jackson lived at Spout House, Gee Cross. This is also confirmed by the Werneth Land Tax records. Spout House is still standing on Stockport Road, Gee Cross.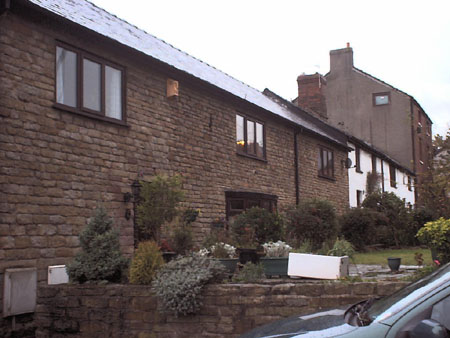 The internal features of the house indicate that it is 17th Century in origin if not earlier. The large building to the right of the farmhouse is an 18th Century addition. I am reasonably sure that this is the site of David Jackson's cotton business, since they left the farmhouse in 1799, the tithe maps indicated that their land contained a brick kiln field and the present occupants held an oral history tradition that this brick building had been a weaving shed. The next occupants were corn dealers until about 1850, later occupants were farmers. Hand and water driven weaving and spinning dyed out early in Gee Cross, moving further down the valley to Flowery Fields where there was a plentiful supply of coal to drive the new steam powered mills.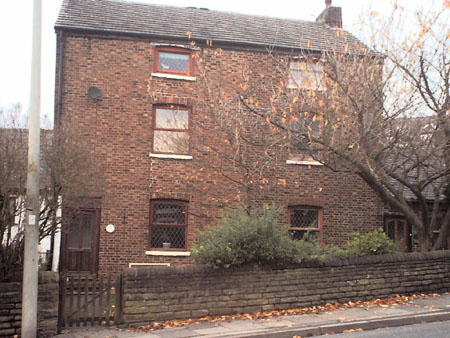 Tabitha's daughter Ann married Richard Cartwright at Stockport St Mary's Church and they had the following children:
Joseph baptised 18 October 1795 at Stockport St Mary's
Bristowe baptised 23 March 1798 at Hyde Gee Cross Unitarian
John baptised 16 January 1801 at Hyde Gee Cross
David Jackson baptised 22 February 1803 at Hyde Gee Cross
Ann baptised 1 March 1807 at Hyde Gee Cross
Joseph married Ann Stafford at Stockport St Mary's 6 September 1818 and lived at Arnold Hill, Gee Cross, Hyde. They had the following children:
Barlow baptised at Hatherlow Independant Chapel 19 June 1820
Jemima baptised at Hatherlow Independant Chapel 7 April 1822
Joseph baptised at Hatherlow Independant Chapel 26 April 1824
Ann baptised at Hyde Gee Cross Unitarian Chapel 18 March 1826
Tabitha baptised at Hyde Gee Cross Unitarian Chapel 3 December 1829
Martha baptised at Hyde Gee Cross Unitarian Chapel 20 February 1829
Selina baptised at Hyde Gee Cross Unitarian Chapel 23 July 1830
Esther baptised at Hyde Gee Cross Unitarian Chapel 13 April 1832
Ellen baptised at Hyde Gree Cross Unitarian Chapel 18 June 1833
Harriet baptised at Hyde Gee Cross Unitarian Chapel 9 November 1835
Harold born March 1838 at Arnold Hill, Hyde and interred 19 April 1838 at Hyde Gee Cross
It was Joseph's daughter Martha (pictured above) who married Franklyn Farebrother Newton in 1850. They had eleven children: Robert born 29 May 1851, Minerva 29 October 1852, Harriet 13 January 1855, Selina Ann 23 April 1857, Ada 11 June 1859 (she died young), Joseph 30 March 1861, Fanny 8 May 1864, John Edwin 14 October 1865, Frank 25 February 1867, Harry 19 June 1868 and Ellen 24 November 1874. It was their daughter Selina (also pictured above) who married our great grandfather Robert 'Unlucky Bob' Stanley on the 13 September 1883. She was in fact 'Blind Jack's' three times great granddaughter. Notice some of the strong family naming conventions that also helped to prove family links.

Selina kept a beautiful photograph album, with pictures of her parents, grandparents, brothers and sisters and her babies. She also kept the family's birthday book.








Gay J Oliver &copy 2001 - all rights reserved