DEANE FAMILY HISTORY


The Deane Family of Kent
John S Stanley married again, quite late in life, in the Christian Israelite Sanctuary on the 29th April 1845. His young wife, Mary Deane, was born in Northfleet in 1819, the daughter of James and Sarah Deane. Her father was a butcher by trade and seemingly had quite a large business on the banks of the river Thames. Courtesy of John Crowson I have the Deane family history dating back back to at least 1582. Northfleet used to be part of Gravesend, which was at one time the headquarters of John Wroe's Christian Israelite Society, until he found richer pickings at Ashton-under-Lyne. So it seems that there was quite a lot of communication between the societies. Another one of the chief elders of the Society met his wife at Gravesend, William Lees married Cordelia Clunne. James Deane's brother William also had a butcher's business in Gravesend and Mary's cousin, William Deane, had a publisher's business, which published 'The Life and Journal of John Wroe' in 1862.
Here is the outline of Mary Deane's family history, kindly given to me by John Crowson who has researched the Deane Family of Kent. This is apparently only a small portion of his huge database.
1st Generation - Richard Deane, the son of Michael and Alice Deane was baptised 21st October 1582 at the Parish Church at Chesham.
2nd Generation - Richard marries Susanna Ginger at Berkhampstead on the 1st February 1611/12 and they have a son Michael baptised at Berkhampstead on the 5th August 1627
3rd Generation - Michael marries Mary (---). The marriage is likely to have taken place during Cromwell's Commonwealth and therefore is not recorded in Church Records. They lived and had a lot of property in the Ash area of Kent. He arrived in Ash as the Steward to Richard Whiffen and was thereafter described as a Yeoman farmer. His sons were baptised at Fawkham, where he also had property.
4th Generation - Michael and Mary's son Michael married Ellinor Warren. They married in St James Church, Duke Street, London, a church famous for not asking questions. You paid your money and were officially married. It is possible that our Michael had married a few years earlier in the same church. Michael's parents and the Warrens were quite wealthy
5th Generation - Michael and Mary's Eldest son Michael was born about 1705. He was left £300 pounds in his father's will in 1708. You can see a transcription of this will on the Kent Genealogy website at (http://freepages.genealogy.rootsweb.com/~mrawson/) Click on Will Transcripions in the left hand menu.This Michael DEANE married Ann GLADDISH in the Parish Church, Milton next Gravesend on Sunday, the 15th January 1736.
6th Generation - They had at least 11 children:
James bapt. 9.3.1737 Kingsdown, Died 11 August 1787, a bachelor.
Thomas bapt. 15.3.1738 Kingsdown, married Mary Carter 4 November 1779
Michael bapt 9.2.1739 Kingsdown, married Jane Wallis about 1766
John bapt 2.12.1741 Kingsdown married Margaret Merry 29 April 1762
Elizabeth bapt abt. 1743 Kingsdown, married George Pawley 14 Dec 1767
Ann bapt 10.07.1744 Kingsdown, married John Judd 11 April 1763
Catherine bapt 8.10.1746 Kemsing, married Davies Deane 4 November 1776
Sarah bapt 25.11.1748 Kemsing, married John Latter 2 March 1784
Isaac bapt 25.11.1750 Kemsing, died 1756
Edward bapt 25.10.1754 Kemsing, married Mary Mandy 21 January 1773
William bapt 15.1.1756 Kemsing, married Sarah Latter 1 October 1780
Michael and Ann farmed at Crowhurst Farm and later in 1744 at Drain Farm. I am trying to get pictures of these farms.The Poll Books for Kent in 1754 record:
Kempsing, Michael Deane, Freehold house and land in Kempsing. Occupier; Edward Gladdish.
Michael died on the ?th April 1769, and was buried in Ash Churchyard on the 28th April 1769. His gravestone in Ash Churchyard reads: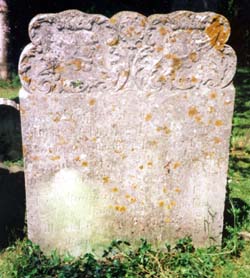 Left Side:
In memory of Michael Deane who departed this life April ye 8th 1769 in the 63rd year of his age. Left issue 6 sons and 3 daughters viz, James, Thomas, Michael, John, Edward William, Elizabeth, Catherine and Sarah.
Right Side:
Also in memory of ANN (Gladdish) of Ash wife of Michael Deane who departed this life November 9 1781 aged 67 years.
"Afflictions sore long time I bore
Physicians were in vain
Till God did please to give me ease
And free me from my pain."
7th Generation - Michael and Ann DEANE's youngest son William married Sarah Latter 1st October 1780 at Tonbridge, Kent. William was a butcher. William and Sarah had at least two sons; William and James and also a possible David born in Tonbridge in 1780.
8th Generation -James DEANE married Sarah Soloman Tolhurst 26, November 1810 at Chalk in Kent. So far I have been able to find five daughters, although it seems that there might have been more children born earlier than these daughters:
Sarah baptised 13.7.1817 at Northfleet, Kent
Anne baptised4.10.1818 at Northfleet, Kent
Mary baptised 7.11.1819 at Northfleet, Kent. IT IS THIS MARY DEANE WHO BECAME THE SECOND WIFE OF JOHN STANLEY IN ASHTON-UNDER-LYNE IN 1845.
Elizabeth baptised 27.7.1824 at Northfleet, Kent
Caroline " 21.1.1821 at Northfleet, Kent
James DEANE's brother William married Sarah's Sister Elizabeth Tolhurst 7th March at Rochester in Kent. They had five children at Gravesend, which is right next door to Northfleet.
William Deane 1.8.1813 at St Georges, Gravesend. AS FAR AS I KNOW IT IS THIS WILLIAM DEANE WHO HAD A PUBLISHING BUSINESS AT GRAVESEND, WHICH PUBLISHED THE LIFE AND JOURNAL OF JOHN WROE IN 1862. GRAVESEND WAS ONCE THE MAIN CHRISTIAN ISRAELITE SOCIETY IN ENGLAND, BEFORE JOHN WROE CAME TO ASHTON-UNDER-LYNE.
Elizabeth 15.3.1818 at St Georges, Gravesend
Anne 15.8.1820 at St Georges, Gravesend
James 1.4.1822 at St Georges, Gravesend
Mary Ann 25.9.1825 at St Georges, Gravesend
JAMES DEANE OF NORTHFLEET was also a butcher like his father William. He died in 1843 and his will is also transcribed on the KENT GENEALOGY website. at: (http://freepages.genealogy.rootsweb.com/~mrawson/)
Mary was no longer living in Ashton-under-Lyne in 1871 she had moved to the then very fashionable area of Manchester and was living a Albert Villa, Victoria Park, Rusholme. The area was full of Merchants from all over the world, mainly German. It is likely that her youngest daughter Sophia met he future husband Eduard Wilhelm Guido Klaus whilst living at Victoria Park.
MARY STANLEY is found living back at Gravesend in the 1881 census with her sister SARAH:
Address: Parrock Villa, Milton in Gravesend, Kent
Film RG11 0873 Folio 66
Sarah Hill head widow aged 63 born Northfleet
Amos Hill son aged 25 born Gravesend
Mary Stanley sister, widow aged 61 born Northfleet
MARY STANLEY is still alive at the time of the 1901 Census aged 81 living at Queniborough, Leicestershire with her daughter SOPHIA KLAUS, who has taken up a position a housekeeper and secretary. She died on the 17th April 1909 and her memorial is recorded in Ashton St Peter's churchyard.




Gay J Oliver &copy 2003 - all rights reserved