Henry Horsfall and Sarah Jameson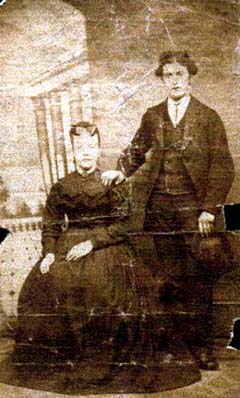 On the right is an extremely faded photograph of Henry and Sarah. They married in 1872 at Christ Church, Ashton-under-Lyne. Alan Horsfall tells me that Sarah was of Scottish descent and I suspect that she may have been the daughter of Alexander and Rosannah Jamieson, who were living on Welbeck Street in Ashton at the time of the 1851 Census. Alexander was born in Scotland and he was a model maker for machinery.
Henry, aged 5 months, was living at Lodge Lane, Dukinfield at the time of the 1851 Census, and with his widowed mother Nancy at the Organ Public House on the 1871 Census. However, by the time of the 1881 Census he is married and living at 87 Vaudrey Street, with Sarah and four young children. By 1901 the family are living at 99 Kenworthy Street.
Henry gives his occupation as that of machine joiner (Engineering and Mechanical), but his grandson Allan Horsfall tells me that Henry travelled widely helping to set up and calibrate machines in mills throughout Europe. He also visited Russia a couple of times and amongst his mementoes are some notes of Russian currency dated 1910. It must have been extremely interesting to look back and remember that you had visited Russia before the Revolution.




The Children of Henry Horsfall and Sarah Jameson

| Name | Born | Where | Summary |
| --- | --- | --- | --- |
| Jane | 1873 | Castle Hall | Jane became a pianist |
| John | 1875 | Castle Hall | John became a cashier at Taylor and Lang's Textile Machinery, but unfortunately died when he was 19 |
| Elizabeth | 1878 | Castle Hall | I don't know what happened to Lizzie |
| Leah | 1880 | Castle Hall | Leah must have died young since Henry and Sarah have another daughter they call Leah in 1888 |
| Bertha | 28 November 1882 | Castle Hall | Bertha was our grandmother, she married Dean Stanley at Castle Hall Parish Church on the 19th September 1910. To find out more go to Dean Stanley's Page |
| Joe | 1886 | Castle Hall | See below for more details about Joe Horsfall |
| Leah | 1888 | Castle Hall | Leah married Albert Wright circa 1920. They had one daughter Edith born circa 1920, but no more children after that because Albert died in 1924. More about Leah below |
| Edith | 1891 | Castle Hall | I don't know yet what happened to Edith. Funny that sisters Leah and Bertha both called one of their daughters Edith |
Joe Horsfall born 1886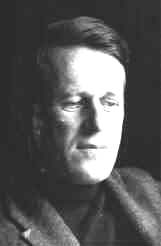 Joe was married twice. I still need to find out the name of his first wife. He then married Dorothy Lawrence Blockley in Stalybridge circa 1924. Dorothy was related to T E Lawrence (Lawrence of Arabia). See photo on the right. Her mother Anne Lyle Lawrence attended Lawrence's Funeral at Moreton, Dorset on 27th June 1935. Her grandson Allan still has in his possession a couple of funeral ribbons that his grandmother brought back with her. It is very difficult to prove the link between the two families, since much of T E Lawrence's ancestry is shrouded in mystery. His mother Sarah Lawrence was illegitimate and so was Lawrence.

Joe and Dorothy had three children:
John Allan born 4th June 1925
Dorothy Barbara born 14th June 1930
Joyce born 23rd October 1934
Joe and his son Allan ran Horsfall's butchers on Grosvenor Street in Stalybridge. The likeness between Allan Horsfall and TE Lawrence as young men is very striking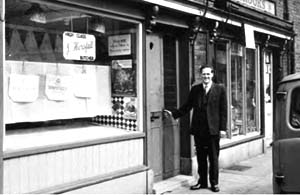 Leah Horsfall born 1888

As mentioned above Leah had one daughter called Edith. Edith married Norman Cox and they had two children Betty in 1944 and Dorothy in 1946. Betty married John Neill, who in 2002 became the Archbishop of Ireland.
Please click here for a profile of John Neill






Gay J Oliver &copy 2003 - all rights reserved