GRT GRANDFATHER JAMES CULLEN (4)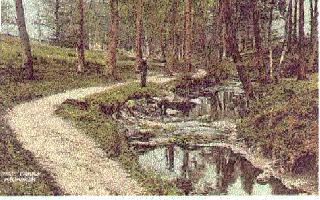 James and Matilda spent their later years together living at 'The Folly', which was one of the Gatehouses to Colonel Dobbin's estate on the outskirts of Armagh (pictured on the right). In those days it was a very picturesque area and although still a tourist area it has become a rather prosperous suburb. I have recently discovered a Cullen cousin still living in the area.
They had five children:
Joseph, my grandfather, born in 1892 at Rathdrum,
James born in 1894 at Armagh,
Teresa Winnefred born in 1900 at Armagh. She married Samuel Gough and had two children Samuel and James,
Georgina Constance born in 1905 at Armagh, she remained a spinster and became a matron in a large London Hospital,
Samuel birth year not yet found (witness at my grandfather's wedding). He married Maggie Tate in 1917, but he died unfortunately in a building accident in 1932 leaving three children:

Samuel born in 1920, who died Christmas 2001, had a son James who still lives near 'The Folly'in Armagh,
David who moved to Belfast,
Winnefred who married someone called Cummings and had three children.
During his later years after he left the Army my great grandfather made a living as a master shoemaker. He died in 1926 and is buried in Sandyhill Cemetry, St Patrick's RC Cathedral. So although he converted to Protestantism he must still have insisted on a Catholic burial.







Picture of 'The Folly' courtesy of Sean Barden's website, please visit his site for more historical pictures of Armagh.

Gay J Oliver &copy 2001 - all rights reserved