Ashton-under-Lyne. The following story was not passed down verbally; indeed, it seems to have been kept secret. It was only rediscovered through researching our family history.

Johanna Southcott a Devonshire prophetess was born at Ottery St Mary in 1750. Most of her prophecies were kept in a sealed box to be opened at some future unspecified date. Her followers were called Southcottians and there were numerous societies which met throughout England, especially in Lancashire and Yorkshire, and even as far afield as America and Australia. They believed in 'Millenarianism' that is the 'Second Coming'. Johanna prophesied in 1814 that later that year she would bear the next 'Shiloh' or 'Messiah'. When she died later in the year of dropsy, George Turner emerged as their 'Shiloh'.

Meanwhile John Wroe was born in the Bowling district of Bradford, Yorkshire in 1782, the son of a worsted manufacturer, and reputedly treated as little less than a slave by his father. He was fairly small and wiry with dark straggly hair, a slight hunchback and exceptionally piercing eyes. In his early life, during periods of illness, he would enter into trance like states and developed the ability to prophesy. During one of these periods he was prompted to join the Society at Bradford. Here he soon came to fame and eventually persuaded them that he was the true 'Shiloh'.

When visiting Ashton-under-Lyne for the first time in 1822 he found an already thriving society and several wealthy sponsors. They had meeting rooms in the Charlestown area of Ashton and included the Lees Family of Park Bridge (iron roller manufacturers), Samuel Swire a coalmine owner and our John Stanley, a wealthy iron and cotton master and later proprietor of Moston Colliery. John Stanley was the uncle of our great, great grandfather Robert Stanley born in 1828. From these families came the main elders of the Society. John Stanley and Henry Lees were already partners with premises on Oldham Road and the Society began to meet in rooms above these premises.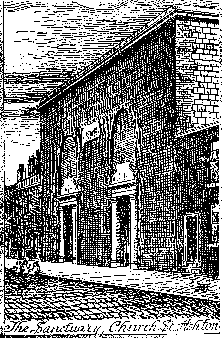 In a well-publicised event John Wroe was baptised in the River Medlock at Park Bridge. Later that day he was publicly circumcised in the rooms on Oldham Road and declared that from this date all male members of the Society were to be circumcised. The next day in a field next to these premises, Wroe prophesied that a light should break forth from this spot on which he stood, which would enlighten the town. A year later Ashton Gas Works was built on the site, not quite the spiritual enlightenment that Wroe had envisaged.
Wroe felt that Ashton was particularly well-favoured (with sponsors!) and it was here that he intended to build his New Jerusalem. He wanted to build a Sanctuary for his followers on land owned by John Stanley on Church Street, then still a fashionable area of town where people walked in their 'Sunday Best' to attend services at the Parish Church. A sumptuous mini 'Solomon's Temple' in design, the only form of light entered the building via two large domes in the roof. It was opened on Christmas Day 1825. The entire cost of £9,500 was met by John Stanley. By way of comparison Ashton Town Hall built some fifteen years later, cost £4,000. Four gatehouses were built at the four corners of the town, which he planned to link with city walls, but this madcap scheme was never finished due to Wroe's subsequent disgrace. Quite how the inhabitants of the town would have thought had the plans been finally implemented!!
Wroe prescribed all aspects of the religion. They were to observe Mosaic Law for a period of forty years followed by forty years of Christian observance. The 'Second Coming' would follow the end of these two periods. There would be strict Sabbath observance, all men were to be circumcised, and only 'Kosher' produce was to be eaten. They opened several shops for this purpose, also well known for honest trading and fair weights and measures. The signs above the doors said 'Israelite Shops', but the locals called them 'Johanna' shops, not having made the distinction between the followers of Johanna Southcott and John Wroe. Every item of clothing and jewellery had to follow an exact pattern, men were not allowed to shave or cut their hair and he intended that his followers should keep apart from the rest of the population. This was not a poor religion; everything was of the most opulent, so that when they paraded through town in their white linen robes followed by their band of musicians they really did stand out against the grime of a cotton mill town.
Wroe then persuaded his followers to build him a house; a magnificent, Doric, pillar fronted mansion, which once stood facing the river Tame next to Portland Basin Heritage Museum. He then announced that he had had a message from God that they should provide him with Seven Virgins from amongst their number to cherish him and accompany him on his missionary tours. It was after one of these tours in 1830 that rumours circulated that at least two of the said virgins were pregnant, one of them reputedly the daughter of Hannah Lees. This now seems like a distorted myth and one of Hannah Lees' daughters did, in fact, give birth to an illegitimate daughter in 1824. A sham trial took place at one of gatehouses (now the Odd Whim Pub on Mossley Road) where, after six days' deliberations, he was merely admonished for 'lax principles'. Riots followed in the town and Wroe escaped first to Bradford, where he was trampled underfoot, and then to Wakefield. After this his followers in Ashton declined, from approximately five hundred in their heyday, to one hundred and fifty at the time of the religious census in 1851. John Stanley appeared to remain faithful to the end and our great, great grandfather Robert Stanley was married in the Sanctuary in 1847.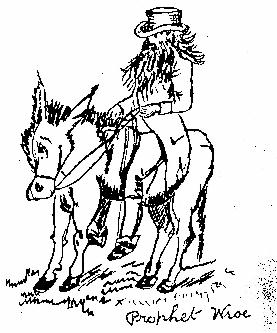 Wroe then persuaded the Society to lend him £2,000 to publish Johanna Southcott's prophecies. He used the money to build 'Melbourne Hall', his new mansion at Wrenthorpe in Wakefield, which eventually, after much wrangling, passed to his sons and not to the Society. Things became progressively more and more difficult in England for Wroe and he finally ended his days in Australia, dying there in 1863.
There are still six Christian Israelite Churches in New South Wales, one in Poland and one in Indiana USA.
Now with the benefit of hindsight it seems extraordinary how supposedly canny northern businessmen, at the forefront of the Industrial Revolution, could have been so readily parted from their money. Some members in other northern towns were reputed to have ended their days in the workhouse. Women also seem to have exerted an extraordinary influence on Wroe and he over them. One possible explanation being that religion was one of the few outlets available to independant, educated women of the time. From the one sole caricature that survives (graven images were banned), he must have been extremely charismatic with an ability to mesmerize.