John Stanley 1786-1855


Children from his First Marriage
John Stanley married for the first time when he was twenty to Sarah Greenwood at Stockport St Mary's Church on the 29th April 1806. He gave his occupation as a mechanic. When they were first married they lived in the Charlestown area of Ashton-under-Lyne and had three children whilst living there.
ANNE STANLEY
Anne was baptised at Ashton St Michael's Church 10/12/1809 daughter of John And Sarah of Charlestown - John's occupation was then a cordwainer (worker in fine leather). I have not been able to find out anything else about Anne.
JOHN STANLEY
John Stanley also baptised at Ashton St Michael the son of John And Sarah of Charlestown - this time John's occupation was given as a joiner.
John married Martha Woodcock at Manchester Cathedral 25/02/1835. They have a baby daughter, Sarah, baptised at Ashton St Michael 18/10/1835, but sadly she only lived for two months and is buried in Ashton St Peter's Churchyard on 4/11/1835. Their next daughter Maria Elizabeth is baptised at Ashton St Peter's 11/12/1836.
From 1834 he is running his father's iron foundry on Cotton Street in Ashton-under-Lyne and living at 227 Stamford Street. Later he moved to 'Taunton Lodge' with his growing family. This was one of the gatehouses of John Wroe's 'New Jerusalem'.
The 1841 Census finds Martha still living there with two children; Monica Maria aged 4 and Edmund* aged 18 months plus two servant girls. I haven't found her husband John anywhere in 1841.
Edmund Abraham Smith STANLEY baptised at Ashton St Peter's Church 23/11/1840
In 1845 John Stanley acquires a 60 year lease on Pembrey House in Carmarthen, South Wales from Lord Ashburnham and most of the properties associated with the failed Pembrey Iron and Coal Company including the well-known Pwyll Stanley (Stanley Pit). Amongst the buildings belonging to the Ironworks was a substantial two storey building in which Stanley allowed a large room upstairs to be used as a school. There is also a railway bridge called Stanley's Bridge. In 1857 he demonstrated his steam threshing machine to a large audience ('The Cambrian' September 25th 1857). He further enlarged the Ironworks and also acquired further mining interests in Gowerton and Llanelly and continued as a prosperous industrialist in the area until about 1865.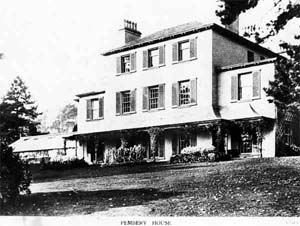 For a description of Pembrey House, please checkout the following website where the 14 bedroomed mansion is outlined in detail in a 'for sale' notice:
PEMBREY HOUSE FOR SALE
Two more children were born while John and Martha were still living in Ashton; Thomas circa 1842 and John baptised at Ashton St Peter's 21/04/1844. Then a further four children were baptised at Pembrey:
Henry Llewellyn 2/04/1847
Emma Amelia 24/07/1848
Frederick George 10/11/1850
Martha Maud Catherine 23/07/1853
The Family appears on the 1851 and 1861 Censuses for Pembrey, but by 1871 only Emma is found, visiting with the family of John Hughes Rees JP and his daughter Emily at Killymaenllwyd Mansion, Pembrey.
By 1881 the family are to be found living in London only two streets away from their cousins.
Film Number RG11 0175 Folio 48
Address: 116 Adelaide Road, Hampstead, London.
Maria STANLEY, unmarried aged 44, Artist (Portrait Painter), born Ashton-u-Lyne.
John STANLEY, father aged 66, born Ashton-u-Lyne.
Martha STANLEY, mother aged 68, born Ashton-u-Lyne.
Emma STANLEY, sister unmarried aged 33, unemployed schoolteacher, born Wales.
Katherine STANLEY, sister unmarried aged 28, Artist (Landscape), born Wales.
Mary A Wright, boarder unmarried aged 86, born London Westminster.
Agnes Turner, general servant aged 18, born London St Pancras.
Not one of his sons have yet been found on the 1881 census or any other sources.
I was a little troubled by John's inheritance terms in his father's will. He was to receive 100 pounds twelve months after his father's death. Could Father and son have fallen out circa 1845 when his father remarried (about the same time as he moved to Wales). John Jnr never seems to have been involved with John Wroe like his father. Or another possibility could be that he received his inheritance in advance to help purchase his lease in Pembrey.

HANNAH STANLEY
Hannah Stanley was baptised at Ashton St Michael's Church 31/03/1820 the third child of John and Sarah of Charlestown. This time the father's occupation is given as a mechanic.
This one took some time to work out, but in the end it transpires that when she was 16 she ran away to Liverpool to marry her first cousin, John Strongi'th'arm Stanley the son of Robert Strongi'th'arm Stanley (a boatman) and his wife Mary, born 16/12/1810 and baptised at Dukinfield Old Chapel 3/03/1811. So he was ten years older than Hannah at the time. They married at Liverpool St Nicholas Church on 26/10/1836, both listed as of Liverpool Parish and John's occupation was given as a bookkeeper.
The following year their first child is born, Horatio Strongi'th'arm Stanley, baptised at Ashton St Michael 12/11/1837, and by this time his father's occupation has changed to that of cotton spinner. According to Pigot's 1838 Trade Directory he is a cotton spinner at Manchester Road (now Old Street) and is living on Welbeck Street.
By the time of the 1841 Census they are living at 227 Stamford Street, a house recently vacated by his brother-in-law John. When his second child is born he is described as a master spinner and by the time his last child is baptised in 1845 he is a cotton factory manager, managing his father-in-law's STANLEY MIILS.
John Strongi'th'arm Stanley and Hannah had a total of four children:
Horatio Strongi'th'arm born 1837
Abraham born 13th December 1840 and baptised in the Christian Israelite Sanctuary, died 27/07/1842.
John Strongi'th'arm born 1844, died 22/11/1844 - no baptism found.
Sarah Hannah born 13/07/1845, baptised in the Christian Israelite Sanctuary, died 22 October 1845.
Hannah herself died 2/09/1845 at the age of 25, not long after the birth of little Sarah Hannah. John never remarried and died himself 23/03/1878 aged 66. All the family apart from Horatio are buried in Dukinfield Old Chapel graveyard in a raised box tomb, with incriptions to the three infants on the sides and a memorial poem from Hannah on the lid.
Dear Husband don't repine for me,
though in my prime I'm called from thee,
But partially thy love sustains,
Find hope in heaven to meet again,
And let my offspring find in thee,
that love that God delights to see.
The 1871 census finds John living at 26 Delamere Place, Ashton-u-Lyne as a widower with Sarah Holladay his 40 year old housekeeper. He has given up the management of Stanley Mills and has become a cotton yarn agent. At number 25 Delamere Place is Reginald Swire a cotton manufacturer and at number 27 John Lees a manager of an ironworks. These were the descendants of Henry Lees and Samuel Swire who along with the original John Strongi'th'arm Stanley were the chief elders of John Wroe's Christian Israelites. So the original families were still to be found living as neighbours and in all likelihood friends some fifty years later.
You wonder if John and Hannah's marriage had her father's approval or if they only gained it after the event, since he then began to run his father-in-law's mills and and began to adhere to the Christian Israelite faith. Could it have been a true love-match, since he never remarried after Hannah's death? Their son Horatio received the same share of his grandfather's will as did his children from his second marriage.
Horatio continued to prosper acquiring a Mill Furnishing business on Deansgate, Manchester and moving to live at Milton Terrace, Fairfield.




Gay J Oliver &copy 2001 - all rights reserved