Mum and Uncle Philippe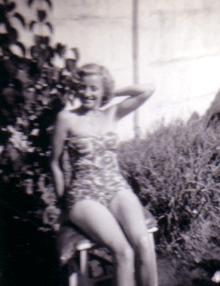 My mother was an extremely glamorous lady and here is a photo taken circa 1950 after having had two children. She was always my father's beautiful golden girl. They met during the liberation of Brussels when she pinched his cap during the Victory Parade in 1945, so corporal Cullen was demoted the next day for appearing on parade without it. When she left school in 1943 Bon Papa (my grandfather) got her a job at L'Urbaine where he was a director, where she worked from 1st September 1943 - 30th September 1944. However, she was an extremely bright young lady and I am afraid she found the work rather routine and monotonous.
She soon landed a job working for ENSA as secretary to a baroness, which also gave her the opportunity to use one of her other skills, singing. She became a kind of Brussels equivalent of Vera Lynn, entertaining the troops and singing on the radio. She sang all the wartime standards, but in French. As a small child I can still remember her singing away while she did the housework in French, German and English.
Mum and Dad married on Valentines Day in 1946 and I was born 25th November the same year. Meanwhile my father had to come back to England to be demobbed and he rented a house for them on West Street in Dukinfield, but for a time they had to live with my Cullen grandparents on Katherine Street in Ashton. I don't think my mum ever got over the culture shock of coming from a fairly comfortable life in a cosmopolitan capital city, to a very grimy post war Ashton living opposite the gas works. Very soon after I was born though she was so homesick they went back to live in Brussels with my grandparents. My dad found it difficult to find well paid work in Belgium and after the birth of my brother the house in Berchem started to get a little overcrowded, so they had to come back to England, this time for good. This time it would be better though, in a new semi with a garden. Mum was still homesick, but we did go back every year for holidays and my grandparents used to come over at Christmas.
Uncle Philippe, our Childhood Hero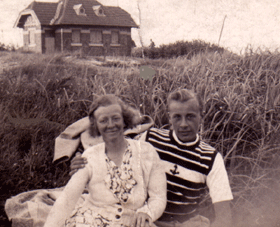 Here is a photograph of my uncle Philippe taken with my Nenene (my name for my grandmother) when he was about sixteen. He was always mine and my brother Bill's hero when we were children, but he caused Nenene endless trouble and heartache.
His first exploit was around this time, when thwarted in his first love he ran away to join the Foreign Legion, with grandmother following behind clutching his birth certificate to prove he wasn't old enough to join. He next fell in love and married Martine who was much older then him. This marriage produced my cousin Jean Pierre, who I was much inclined to be in love with from about the age of seven.



Uncle Philippe and Martine and cousin Jean Pierre in his Military Service uniform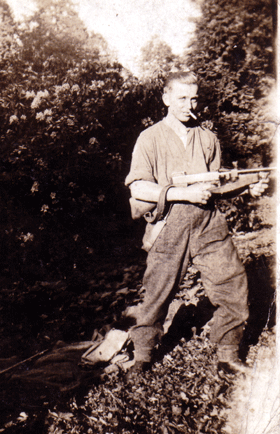 During the war uncle Philippe was in the "Resistance". He was twice arrested by the Gestapo. the first time they interrogated him and let him go. The second time he was being taken away to prison on a train, but managed to escape through a toilet window when the train was stopped at a station. He spent the rest of the war with a price on his head.
His marriage to Martine didn't last that long and he soon married my aunt Helene. They had a son also called Philippe, who was sadly very physically disabled with Hydrocephalus and Cerebral Palsy. This was in the days before the water on his brain could be drained, so his head grew to massive proportions. My cousin was very well loved and looked after and did live much longer than anyone expected, but when he was twenty one after a night of severe headaches he died.
Despite these difficulties it didn't stop my uncle from leading a glamorous lifestyle. At one stage he was a director for Twentieth Century Fox, then my aunt and uncle ran a night club in Brussels. Later as they got older they ran a posh deli at Knokke-le-Zoute an upmarket seaside resort in Belgium.
The last time I went back to Belgium was to celebrate my grandmother's 100th birthday. This was celebrated in the home where she lived at Veurne. The ceremony took place in the chapel of the home and the burghermen of the town turned out to present gifts and flowers and certificates. With the nuns actually serving beer in the chapel after the service. The most surprising thing about this event was the discovery of a new cousin, Caroline who was the same age as my son. It was also with great difficulty that my son managed to keep his eyes off his aunt all day. Apparently my aunt Helene had had to welcome Caroline, the product of one of my uncle's lady loves, into the family. I couldn't believe that I had a cousin who had been kept totally secret.
Uncle Philippe died two years ago and I have absolutely no knowledge of the whereabouts of my two cousins Jean Pierre and Caroline.
Last photo - Me and my brother Bill circa 1955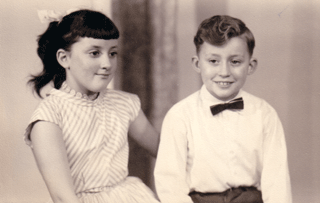 Gay J Oliver &copy 2003 - all rights reserved