PIETTE HISTORY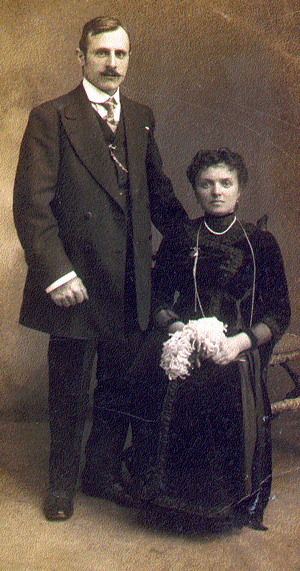 This picture is of my PIETTE great grandparents.
Although I believe that my grandfather and his brother were born in Brussels, the Piette family originates from Namur in the south of Belgium and that the name is originally from Poitou in France. This picture was probably taken to celebrate their wedding in 1889.
As far as I know they had two known children, their eldest being great uncle Louis who married my great aunt Simone. They had two daughters, one called Nelly who went to live at Niagra, USA shortly after World War 2. Nelly married an American and had one daughter Jeannine Carole (known as 'Pinky').
Their other son, Francois Paul Philippe, was born in 1897 he married my grandmother Jeanne Eugenie Adems circa 1918. Both their children were born at Moulenbeek St Jean, Brussels, but the family moved to Berchem St Agathe in 1931 ( see photo taken in 1931 on previous page of the family in their new back garden).
My Uncle Phillipe was born in 1919. He was our childhood hero, more about him later. Then my mother, Jeannine Pascaline Florette, was born 22nd October 1926.
Jeannine married Herbert Joseph Cullen on Valentine's day in 1946 and I was born 25 November in the same year, followed by two brothers in 1948 and 1958







Mum and Dad's Marriage on Valentine's Day 1946



Gay J Oliver &copy 2003 - all rights reserved