ROBERT STANLEY 1721-1798


Due to the fact that the Parish Registers for Dukinfield Old Chapel are missing between the years 1713 and 1764 I am unable to find our earliest proven ancestor's date of birth. I have, however, found a mention of a family called STANLEY in James Hickey's book 'Dukinfield Past and Present'. He mentions a farm situated at the top of Pickford Lane which previously abutted the road at an awkward angle with a date inscribed on a stone at the front gate of 1749. He states that at one time this farm was owned by a family called Stanley. The fields around here extending as far back as The Lakes Residential Home were once called 'Stanley Fields'.
I have also found entries for a John and Eliza Stanley of Dukinfield buried at Manchester Cathedral in 1768 and 1772 respectively. I am extremely tempted to speculate that this John Stanley could be the father of our Robert born circa 1721. This could also have been the first family farm in Dukinfield and descendants of Robert Stanley 1721-1798 were still farming this same land as late as 1851.
We know that Robert Stanley married twice. His first wife Mary Kelsall born 1727 the daughter of John Kelshall and Mary Hodson on 26th April 1751 at Ashton Parish Church. He then married Ann Gee at Stockport St Mary's Church 27th June 1764. He had eleven children by Ann Gee and at least five by Mary Kelsall. He may also have had two children by a third wife for whom we have no knowledge.


"The Children of Robert Stanley 1721-1798"
Mother
Name
Born/Bapt
Place
Married
Died
Unknown Mother
Robert*
circa1748
---
Sarah Smith
---
William*
circa1750
---
Hannah
25 May 1825
Mary Kelsall
born1727
married
26th April 1751
at Ashton St Michael
George*
circa1751
---
Mary Ashworth
27 Jan 1837
John*
circa 1752
---
Lexcey
31 July 1827
Thomas*
circa1754
---
Alice
23 Jan 1835
Amy*
circa1756
---
Thomas Saxon
---
Matthew
1757
---
---
25 July 1758
Ann Gee
married
27 June 1764
at
Stockport St Mary's
Hannah
1764
DUK
---
8 Sept 1765
Sarah
1765
DUK
---
---
Nathaniel*
16 Dec1767
DUK
Betty Winterbottom
---
Matthew*
13 Nov 1769
DUK
Elizabeth Hughes
20 May 1835
James
6 Dec 1771
DUK
---
14 Oct 1772
Hannah*
24 Aug 1773
DUK
William Beckett
---
Abraham*
21 Dec1775
DUK
Alice Cook
13 Jan 1811
Ann
27 Feb 1778
DUK
---
9 Nov1800
James*
8 Aug 1781
DUK
Betty
---
Jenny
23 Jan 1783
DUK
---
6 Dec 1806
Samuel*
25 Jan 1785
DUK
Sarah Etchells
---
* I have continued to follow these lines and so far have traced 75 grandchildren, 40 great grandchildren,
65 great, great grandchildren and 93 great, great, great grandchildren.
Where dates of birth have been estimated these have mostly been from gravestone inscriptions
Until the birth of Ann in 1778 the family lived at Wood End Farm in Dukinfield. This no longer exists, but was right next door to Plantation Farm where Mary Moffat the famous missionary lived as a child.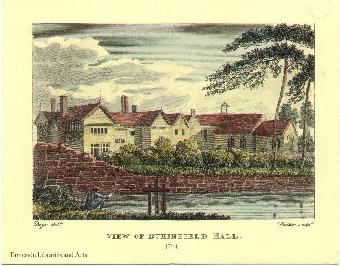 From 1778 we find Robert Stanley living at Dukinfield Hall see engraving. This would be after John Astley Esq. moved out, after he had built his new manor house at Dukinfield Lodge. According to the 1780 Land Tax Register for Dukinfield, Robert Stanley was paying the highest tax in Dukinfield and was farming the lands of the Old Manor Hall. He was about 65 years of age when his last child Samuel was born and from about this date left Dukinfield Old Hall to buy land and properties in the Cross Gates area of Audenshaw.
In his will he comes under the title of Yeoman of this Parish and there is mention of his loom and the occupations of his tenants (details can be supplied). It is tempting to think of him as a sort of 'middleman' or 'putter out of work' in the embryonic Cotton Industry.
I believe that all of his children were educated since he leaves provision in his will for the education of his two youngest children Jenny aged 15 and Samuel aged 13.



Gay J Oliver &copy 2001 - all rights reserved