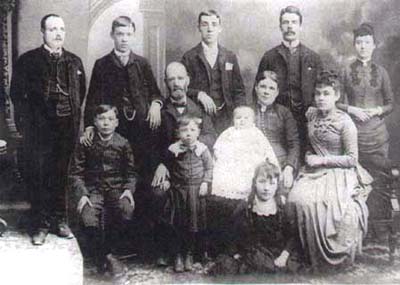 Jonathan Wilde and Ann Lexey Stanley who emmigrated to America. Ann Lexey was the granddaughter of William Stanley 1788-1879, Robert Reschid Stanley's father and John Stanley 1786-1855's brother.


Back row: George born 1863, Stanley born 1874, James born 1867, William born 1868, Hannah born 1871.
Middle: Jonathon, Ann Lexey born 1845, Esther born 1864.
Front: Alexander born born 1878, Frederick born 1885, Baby Albert born 1888 who died a few days later and Ann Lexey born 1881.



Ann and Jonathan were married in 1864, but their first child George had been born illegitmately the year before. When they emmigrated to America they stated that they were married in 1862 thereby legitimizing George's birth. They had to carry on with this subterfuge by celebrating their Golden Wedding in 1912. They had large family reunions until the 1940's. I have a photograph of one of the last in 1939, but the quality was not good enough to include. One side of the family is missing from this reunion because of a huge argument between the families. This was during 'Prohibition' when one of the families moved to Cananda and started 'liquor running'. These lines have now been reunited by a shared interest in family history.
Below is a photograph of the ship 'Campania' in which they sailed to America.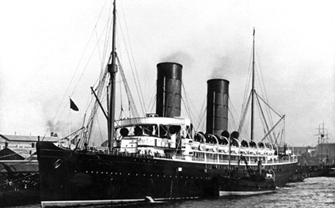 Gay J Oliver &copy 2003 - all rights reserved