KINGSLAND, HEREFORD
1730 onwards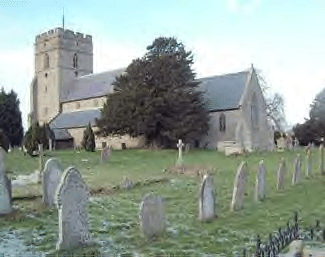 Finding that great, great grandfather William Oliver was born in Kingsland, Herefordshire at the beginning of the 19th Century prompted a search through the parish registers of Kingsland Parish Church and surrounding parishes. This took me back to the earliest entry I could find in the area for a marriage between Charles Oliver and Margaret Boar on the 25th July 1734. Ostensibly the registers for Kingsland date back as far as 1539, so it was terribly frustrating to find that most of the early 200 years are virtually unreadable apart from short gaps.
Entries in the burial registers reveal that Margaret was buried on the 20th November 1737, shortly followed by Charles on the 29th of August 1738, so not much time between their marriage and burials to have more than a couple of children. There is another entry for a William Oliver buried on the 8th February 1739.
The next entries were for the baptisms of the children of John and Margarett Olever; Francies on the 6th of January 1765, Thomas on the 26 April 1767 and Shusanna on the 3rd Margh 1771. It is tempting to think the John was the son of Charles and Margaret. If he is not a direct descendent, he is the next generation.
Francies Olever married Lucretia Griffiths at Aymestrey on the 1 July 1792. Aymestey is 2.8 miles NNW of Kingsland. Thomas married Mary Shuter on the 9th July 1791, and Shusanna does not appear to marry. I searched among the baptism of Francies and Thomas's children and there was only one William born in 1798 the son of Francies and Lucretia, but he married Ann Hammond on the 21 June 1822 at Lingen where they remained, so was not my William.
There were three other contemporary marriages locally, possibly siblings or cousins to Francies, Thomas and Shusanna:
Jane Oliver married John Cook at Aymestry on the 15th May 1794,
Penelope Oliver married Richard Lambert at Kingsland on the 17th May 1794,
Richard Oliver married Susannah Steade on the 30th May 1791 and they have a daughter Shusannah baptised at Kingsland on the 5th August 1792, but Richard is buried at Kingsland on the 22nd November 1794.
Then I stumbled across the following entry which after a process of elimination must be our William.

For the descendents of Thomas Oliver and Mary Shuter go to next page.

&nbsp&nbsp&nbsp&nbsp&nbsp&nbsp&nbsp&nbsp&nbsp&nbsp&nbspBACK TO OLIVER INDEX







Gay J Oliver @ 2003 updated 2008 - &copy all rights reserved