John Horsfall and Charlotte Turner
It is believed that the HORSFALL name originates from a tiny place north east of Todmorden dating back to about 1390. There is also a railway tunnel nearby called Horsfall Tunnel. However, the furthest I have traced our Horsfall family is to a marriage between John Horsfall and Charlotte Turner on 17th March 1817 at Huddersfield St Peter's Church. At the moment I believe John to be the son of John Horsfall and Ellen North baptised at Huddersfield 16 November 1791. John and Ellen married at St Peter's 19th December 1786, and also had a daughter called Ellen. Further research is needed to prove this.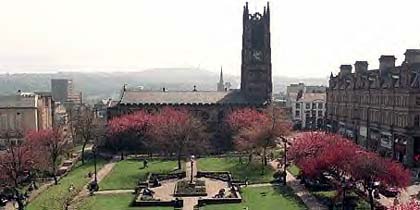 John and Charlotte had four children all baptised at St Peter's Huddersfield.
Thomas on 23rd November 1817
Turner on 20th June 1819
John on 26th January 1823
Ellen on 28th November 1824
In 1817 John and Charlotte were living at Linthwaite, Almonbury, but had moved to Slaithwaite by 1819. John calls himself a Whtesmith at his children's baptsims, but Baines Trade Directory of Yorkshire for 1822 has him listed as a blacksmith.
Family legend has it that John was releated to William Horsfall the owner of Ottiwell's mill in Marsden who was murdered by Luddites on the 28th April 1812. Click here for more about this story
I haven't been able to find out anything more about their children Thomas and Ellen, but Turner is found again living at Fleet Street in Ashton-under-Lyne with his wife Martha and children John (10), Emma (5) and baby James (3 months) at the time of the 1851 census. I have also continued to trace Turner's descendents right through to 1901.
It is their son John born 1823 who is our great, great grandfather. More about this generation on the next page.



Gay J Oliver &copy 2003 - all rights reserved