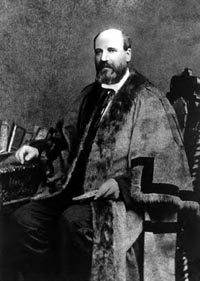 Our starting point for researching our STANLEY Family History was with Robert since we already knew that he had once been the Mayor of Stalybridge. We were soon rewarded with a copy of his photograph in mayoral robes (see picture on the right) and an obituary. It has been nothing short of staggering where one simple sentence in an obituary has led us.
"Robert Stanley was born in Cardiff in 1828 and at the age of ten he came to work for his uncle John Stanley at his Old Johanna Shop."
From this one sentence details of his uncle John Stanley began to be slowly pieced together, his involvement with John Wroe and the Christian Israelites and the possible scandal that had led Robert's father William to remove himself to Cardiff. With the discovery of the graves of more Stanleys in Dukinfield Old Chapel our family history progressed back two further generations to Robert Stanley 1721-1798, and in all likelihood back even further to circa 1600 in Audenshaw. But, we were not yet finished with more surprises and family secrets.
Pigotts Trade Directory showed us that John Stanley's 'Old Johanna Shop' was at 207 Stamford Street, Ashton-under-Lyne, later moving to larger premises at 193-195 Stamford Street. My husband Mike stared incredulously at the page when reading this address, because this was the same shop that he had started his first job in some 120 years later when he was fifteen. In the 1950's Stamford Street was the main shopping street in Ashton and then at 205-207 stood 'Weaver to Wearer Gent's Outfitters and Bespoke Tailors', and this was where he started as a junior sales assistant in 1958, later moving onto Display work.
Robert Stanley marrried Emma Meredith on the 17th October 1847 in the Christian Israelite Sanctuary. She was from Tewkesbury in Gloucestershire, the daughter of Thomas Meredith and Margaret Collins In the same year he opened his own Grocer's Shop and Tea Dealers on Melbourne Street, Stalybridge. Years later this shop was taken over by Burgon's Chain of Grocers and Specialist Tea Dealers. It was here in the 1930's that my husband's father Charles Oliver was manager with a young Joan Stanley working as a sales assistant (Robert's great granddaughter). They eventually married on the 26th December 1938. This shop is now a furniture shop, but on the gable end in a small bricked-up window you can still just about make out the words "Established 1847" and in bigger letters BURGONS SPECIALIST TEA DEALERS.
Things began to feel a little unerving, it seemed that not only our genes had been passed down, but also links with places were being perpetuated through the generations, links that at the time had been unknown.


Here is a photograph of six of Robert and Emma's children taken circa 1880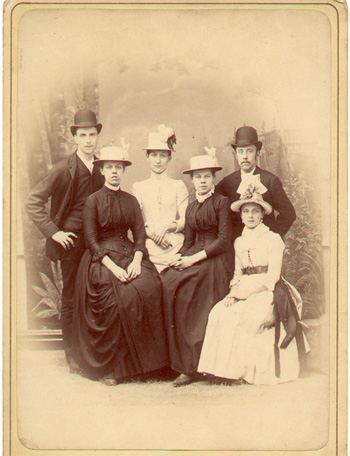 | | | | | | |
| --- | --- | --- | --- | --- | --- |
| Thomas | Mary Jane | Sarah | Emma | William | Alice |
Details of Robert and Emma's Children
| Name | Date of Birth | Details |
| --- | --- | --- |
| William | 19 Sept 1848 | By the time of the 1871 Census he is living at 32 Shaw Street, Ashton with his wife Mary and is working as a clerk. By 1881 he has moved to 7 Rowland Street, Salford still working as a clerk, but by now has three young children Emma aged 9 Harriett aged 6 and Robert a few months old. We know that he eventually moved to Heswall on the Wirral and had at least two more children George and Daisy who both emmigrated to Australia |
| Annie | 27 July 1850 | She emmigrated to New Zealand and married there. |
| Thomas | 5 Nov 1851 | Apparently he was a very independant man who eventually ran away to sea. |
| James Henry | 15 Nov 1853 | He went to live in Manchester remaining a bachelor until his death in 1908. He is buried with his parents in St Paul's Churchyard, Stalybridge. |
| Mary Jane | 25 Oct 1855 | According to the 1881 Census she is still living at home and working as a schoolteacher. She remained a spinster and died in 1925. She is also buried with her parents. |
| Robert "Unlucky Bob" | 12 Aug 1857 | More about him later |
| Emma | 24 Jan 1859 | According to the 1881 Census she is also living at home and working as a confectioner. She later married Enoch Burton and had two children Stanley born 7 July 1885 and Dorothy May born 1 May 1894 |
| Sarah | 23 Feb 1861 | Like her sister Mary Jane she was also a schoolteacher. She married John Whittaker in 1885 a widower with three children. They went to live in Accrington and had a son called John. |
| John | 1 Jan 1863 | According to the 1881 Census he was employed as a tea traveller. He died young at 35 the 3 November 1898 and is buried with his parents Robert and Emma. We know that he had four children; Robert born 1889 who died aged one, George Meredith born 9 May 1891, William born 29 November 1894 who died during World War I and John born shortly after his father died on the 21 December 1898 |
| George | 25 Sep 1864 | Who died on the 30 November 1865 as an infant and is buried with his parents. |
| Alice | 24 April 1870 | When her mother was forty five and she was still at school when the 1881 Census was taken. She married Joe Taylor a headmaster and went to live in Ashton. |
Please click here to find out a little about Robert's Political Career and his conversion to ISLAM.





Gay J Oliver &copy 2001 - all rights reserved