"UNLUCKY BOB" STANLEY 1857-1934


Why "Unlucky Bob"? No-one really knows the reason for this name, it was found in the family's 'Birthday Book', but it may be as a result of the following events.
He married his first wife Selina Newton on the 13 September 1883. Selina was the daughter of Franklyn Farebrother Newton and Martha Cartwright. Family legend has it that she was a descendant of Blind Jack of Knaresborough the famous road buidler, more of which later. Their fourth child Pattie died during childbirth to be followed four days later by Selina.
Robert married again to Harriet Barlow on the 12 October 1892, but sadly their first child died aged five weeks. Harriet apparently wouldn't marry him unless her sister Annie came too and all three are buried in the same grave.
Unlike his father, he does not appear to have been at all interested in Politics or Business, nor did he have his father's interest in alternative religions. By all accounts he was a rather unremarkable Anglican and from what I have discovered he seems to have had a more gentle artisitic bent. and a rather autocratic manner
In the 1881 Census he was still living at home and working as a commercial traveller in Tea. His son Dean born in 1885 does remember, when he was young, walking as far as Congleton pushing a cart with his father and returning the next day. He did, for a time, have his own Grocer's and Tea Dealer's at The Mount, Stalybridge, but later as his family grew he took a job as an accounts clerk with the Gas Board, living above the showrooms, which were then on Trinity Street. He later went to work for Stalybridge Corporation in the Rent and Rates Collection Department and went to live at 1 St Georges Street.
His main passion was for singing and producing light operettas for Old St Georges Operatic Society, for which our cousin Brian Longden still possesses several photographs and programmes. All the family were very good singers and at family get togethers like Christmas his daughter Maggie would play the piano whilst Robert and his five sons would sing harmonies. It seems clear from Maggie's daughter Lena's autobiography of her early childhood that these were amongst his happiest moments.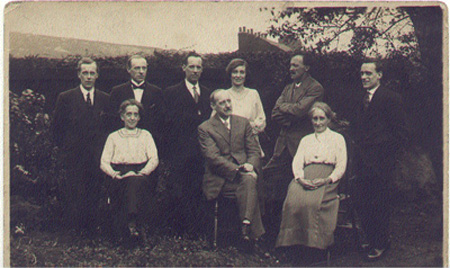 Robert(Bob)
Harold
Hubert
Maggie
Dean
Percy
Harriett (Hettie)
"Unlucky Bob"
Aunt Annie
Details of Unlucky Bob's Children
| Name | Date of Birth | Details |
| --- | --- | --- |
| Maggie | 31 July 1884 | She married Harry Marsh when he returned from fighting in the Boer War; they had one daughter Lena. Maggie was a schoolteacher teaching at Hob Hill School and Waterloo Road Secondary School for Girls. |
| Dean | 1 December 1885 | Our Grandfather- more about him later |
| Harold | 7 August 1888 | He was a patternmaker by trade and from about 1909 lived in Congleton. His first wife was Ruth Cordwell died giving birth to a baby boy, Rowland, who also died. He married again to Maud Mcleavy in 1920 and had three sons Eric, Ronald and Colin. Ruth and Maud were both Congleton women. |
| Pattie | 22 May 1891 | Died at Birth, to be followed four days later by her mother Selina |
| Robert | 27 July 1893 | Died a few weeks later |
| Hubert | 31 July 1894 | He became a fitter and married Lizzie. They had five children but only Philip and Mary survived . They lived on The Hague, Stalybridge. |
| Percy | 6 July 1896 | He was also a patternmaker by trade. He married Edith Walton from Stalybridge who was a dance teacher and choreographer in professional shows. They both moved to Colwyn Bay to start an undertaking business, where Edith also became involved in organising the Eisteddfod. They brought up two children Valerie and Ian. |
| Robert Eric | 12 February 1899 | He trained as a mill manager, but later went into business with his brother Dean in Stalybridge. He married Alice Buckley and they had three children; Noel, David and Ruth. They lived on Stamford Street, Stalybridge opposite Stamford Park. |
| Eva | 16 December 1900 | She died at three years of age and is buried in St Paul's Churchyard, Stalybridge. |



Gay J Oliver &copy 2001 - all rights reserved