| | | |
| --- | --- | --- |
| | George and Elizabeth Oliver | |



George was baptised on the 13th September 1835 at Diddlebury Parish Church and his living with his parents William and Susanna at Fernhall Mill at the time of the 1841 Census. I have not found him on the 1851 Census, but did on the 1861. He is living at Aston Munslow aged 26 living with his 32 year old wife and three children, the eldest George was 8 years old, so he must only have been sixteen or seventeen when Elizabeth became pregnant. His wife Elizabeth was born at Stokesay, his eldest son George at Ludlow, Edwin aged 4 was born at Stokesay and 3 month old daughter Martha was born at Aston. From this I gather that I might be able to find him at Ludlow for the 1851 Census.
I haven't found the family at the time of the 1871 Census, but by the time of the 1881 Census he is living at Lower Hayton, Stanton Lacy.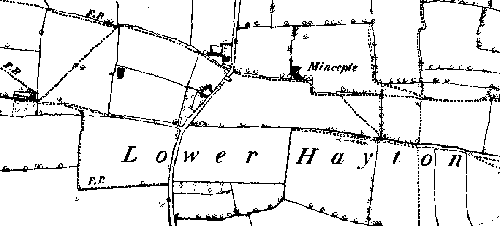 Lower Hayton circa 1889
Lower Hayton in 1881 was made up of the main farm of 69 acres run by William Hall and his four sons, Richard, William, Thomas and Arthur. William Hall employed three men; John Lloyd unmarried aged 40 who came from Stanton Lacy; Edward Morgan aged 50 born at Diddlebury, with his wife and seven children and great grandfather George Oliver aged 45 with his wife Elizabeth and four sons Frederick aged 16 a pupil teacher, John aged 13 an agricultural labourer and William and Thomas aged 11 and 9 who were still at school. Also living with George and his wife was a blind widow aged 89 called Martha Bywaters.
If you look at the map, the main farm is the T shaped building, which today is called Barracks Farm, and there are three other buildings where William Hall's agricultrual labourers lived. I love the name of one of the fields 'Mincepie'. A modern day map shows exactly the same buildings.
So it looks as if great grandfather George and his wife Elizabeth had the following children:
George born circa 1853 at Ludlow - I haven't found anything about him after 1861.
Edwin born 1857 at Stokesay - nothing on him either after 1861
Martha born 1861 at Aston Munslow - in 1881 Martha is working as a general servant for a Mr John Valentine and his family at Upper Broad Street, Ludlow St Lawrence. John Valentine was a master grocer employing 21 people, eleven of whom were living in.
Frederick born 1864 at Delbury - nothing more is known about Frederick
Emily born 1867 at Delbury who in 1881 is unemployed servant boarding with an Ann Edwards a widow at Victoria Cottage, Rock Lane, Stanton Lacy.
John born 1868 at Delbury who in 1901 was married to Sarah and had a daughter Annie aged 5 who was born at Meole Brace, Shropshire. John is now a Railway Plate Layer living at 26 Crowmore Road, Holy Cross and St Giles, Shrewsbury
William born 1870 at Delbury. William is our grandfather so more about him next page.
Thomas born 1873 at Stanton Lacy. In 1901 he is living at Broadstone, Aston Munslow with his young wife Ellen and an aunt called Matilda and cousins Sidney (14), and twins Harry and Charles (13).
In 1891 George and Elizabeth are living at Sutton Road, Stanton Lacy. Geroge is still an agricultural labourer and they have a Richard Jones staying with them.

BACK TO OLIVER INDEX







Gay J Oliver @ 2003 updated 2008 - &copy all rights reserved