William Oliver & Elizabeth Hancox
married 6th April 1896



For a while I had been wondering how grandfather William Oliver and Elizabeth Hancox met. William in 1881 was living at Lower Hayton, Stanton Lacy in South Shropshire and Elizabeth was living at Dawley, much further north. The 1891 census seems to partly answer this question in that William is staying with his uncle at Stirchley just four miles from Dawley. The 1891 Census is rather difficult to read but it appears that William is living with his uncle Horacio and Aunt Amelia Jones, His uncle was a farm bailiff living at Grange Farm, Stirchley. William gave his occupation as unemployed. So perhaps he had just recently travelled north to stay with his uncle and to seek work. Something he was to do again later.
In 1881 Elizabeth Hancox was living with her widowed mother Mary aged 37 who was working on a coal mine bank. She was only seven years old and had a twelve year old sister Harriet, Emily aged 5 and baby brother Joseph aged 1, at Coppice Houses, Dawley. So it seems that her mother can't have been a widowed very long. What a hard life she must have had.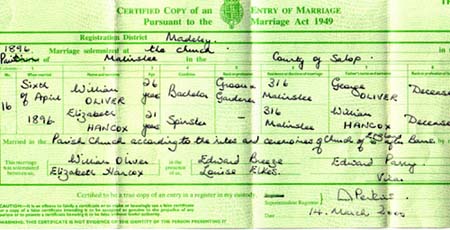 As can be seen from the marriage certificate William and Elizabeth married in the Church at Malinslee in April 1896. William had found work by now as a Groom and Gardener.
Their first child William Percy (known as Percy) was born fairly soon afterwards on the 14th July 1896 at Wrockwardine Wood. Percy became a shopkeeper at Glossop, Derbyshire, where he married Sally Greensmith on the 18th August 1923 and they had two children, Anthony and Jacqueline. Anthony was born circa 1928 and unfortunately died 9in 1952 in a motorcycle accident. Jacqueline was born in 1934 and married Gerald Riley in 1963. They have three sons.
Their second son Thomas Norman (known as Norman) was born circa 1899 also at Wrockwardine Wood. He became a policeman in Glossop. As far as I know he married twice. One of his children from his first marriage may have been called David. His second wife was called Jessie and they had two children June and Norman. I believe that his son Norman also became a policeman.
Next came two other sons, but I am not sure in what order. Joseph Frederick (known as Frederick) and George Edward (known as George). They were born sometime between 1899 and 1906. Frederick didn't marry and seems to have died fairly young of TB. George married twice, first to Martha and secondly to Eunice Kynder. They never had any children.
There were also two daughters Dorothy and Catherine. I have no details of their dates of birth, but they also died very young of TB. Cousin Jacqueline knew of their existence, but they were both dead by the time she was born in 1934.
Their fifth son Charles Daniel (known as Dan) was born on the 4th November 1906. more about him on the next page.
William Oliver and Elizabeth Hancox were still living in Shropshire in 1906 when Dan was born. Money must have been very tight, because William kept changing jobs. When he married he was a groom and gardener. Five years later he was a grocer's carter and another five years later he was a general labourer. The family moved again seeking work, first to Buxton in Derbyshire and finally to Glossop in Derbyshire where he became a callenderman at Turn Lea Paper Mill. Both William and Elizabeth were both dead by the time my husband was born in 1943.



BACK TO OLIVER INDEX






Gay J Oliver @ 2003 updated 2008 - &copy all rights reserved